Order Pickers are ideal for assisting in a wide range of tasks including stock picking, high level maintenance etc. The people lifters are available in two height options of 1800mm and2400mm to foot level. All the relevant safty features are built into these people lifters as you would expect.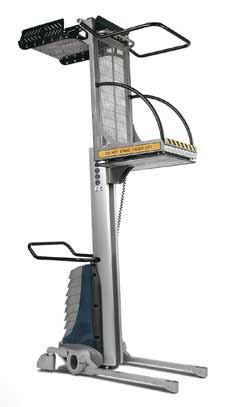 Lightweight Modular Aluminium – ease of operation
First for Safety – numerous safety features as standard
Range of Duties – order picking, maintenance etc…
Value for Money – unrivalled for price against spec
Lift height: 1800mm or 2400mm to foot level
Platform capacity: 150Kg
Tray capacity: 50Kg
Platform size: 610mm x 610mm
Additional information: Manoeuvrable – Ideal for tight places. Manually propelled – Safe in public areas. Safety – Stable at any picking height. Stylish – Will not look out of place anywhere.