When asking for the perfect kind of handling there is a simple answer: VacuPowerlift
The intelligent, comfortable and user-friendly solution for almost any task. With the tube lifter you kill two birds with one stone because only one medium is required for gripping and lifting –"Vacuum".
Vacuum Tube lifter for Quick & Safe Handling of Boxes, Panels, Doors, Drums Etc.
The VacuPowerlift sticks to a given word. That holds-true not only for the wide range of parts that can be safely lifted by it…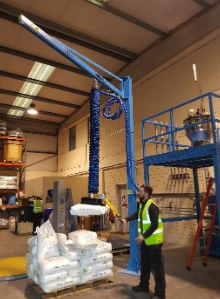 Safety
The VacuPowerlift is a closed system and does not require additional safety features, like electric safety units etc. The relation of suction area/lifting tube guarantees that the loads are held in place by the suction foot. Even should a power failure occur, In that case a non-return valve makes sure that the load is lowered to the floor in a safe and controlled way before the suction foot disengages.
Comfortable and quiet
Our highest goal when developing our lifter series was the well-being of the employee at his workplace. The simple and ergonomic alignment of the operation elements and the low-noise blowers ensure that even lifting heavy weights can be fun!
Flexible
The clever modular system allows that the VacuPowerlift is easily adaptable to different requirements. There is a large variety of suction feet for all kinds of work pieces. A wide range of accessories and options like extensions to the control housing, turning and swivel features and special applications provide almost limitless application areas.
Asked for in many sectors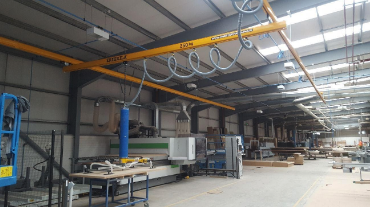 With its large range of models the VacuPowerlift is the sought-after all-rounder for loads up to 150 kg in many industries, such as:
Packaging industry
Woodworking industry
Agriculture industry
Plastic, glass and windows manufacturing
Stone industry
Food industry
Electronics (e.g. TV sets)
Drums, crates, containers
and many more
Optional equipment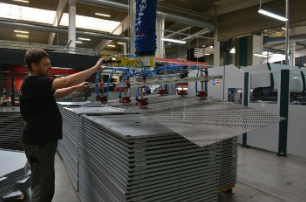 The VacuPowerlift is very adaptable and offers a wide range of accessories:
Extension and joints for the control handle
Endless rotation feature
90° joint
Silencer box for the blower
Remote control for the blower
Quick-change coupling for the suction feet
Stainless steel design for the food and pharmaceutical industry
Pneumatic feed for swiveling or pneumatic grippers
Solutions complete with crane systems