Work Positioners operates with loads from 65 kg up to 250 kg. Weight distribution is spread evenly over all four swivelling wheels and with the unit's short wheelbase and light self-weight the Work Positioner is the safest and most manoeuvrable lifter on the market!
An improvement in the working environment resulting in greater profitability for your company.
Charger
The charger cannot overcharge the battery using an auto-cut-off function. The unit is suitable for most worldwide voltages.
Perfect weight distribution
Due to the lifting mast unique positioning at the rear of the chassis New Mechanic has achieved near perfect weight distribution providing unrivalled manoeuvrability.
The 100% vertical mast eliminates problems such as platform drift found on other products.
Compact design
The Work Positioner features an extremely compact design which is also very easy to clean.
Product features
One- or two-speed function for elevation and descent, depending on model.
Battery charger with auto-cut-of-function.
Easily customized for your specific requirements
o Higher lift heights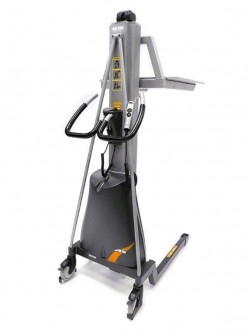 o Wider straddles etc.
o Box handlers
o Reel handlers
o Barrel handlers
o Sack handlers etc.
WORK POSITIONERS
Work Positioners are small, lightweight and flexible; eases lifting and transport of goods in most
industries, Electronic, Computer, Packaging, Pharmaceutical & Food. Litterally all Industries.
The perfectly centered weight distribution, short wheelbase and low self-weight makes our Work Positioners
the safest and most manoeuvrable lifter on the market. The perfect solution for weights up to 250
kg. We can also modify and manufacture non standard equipment for that special application.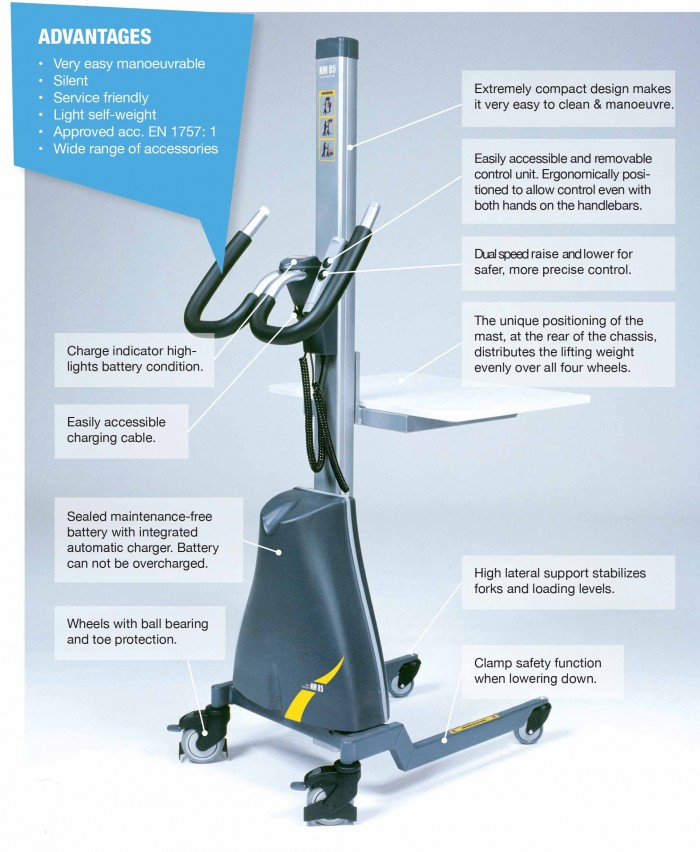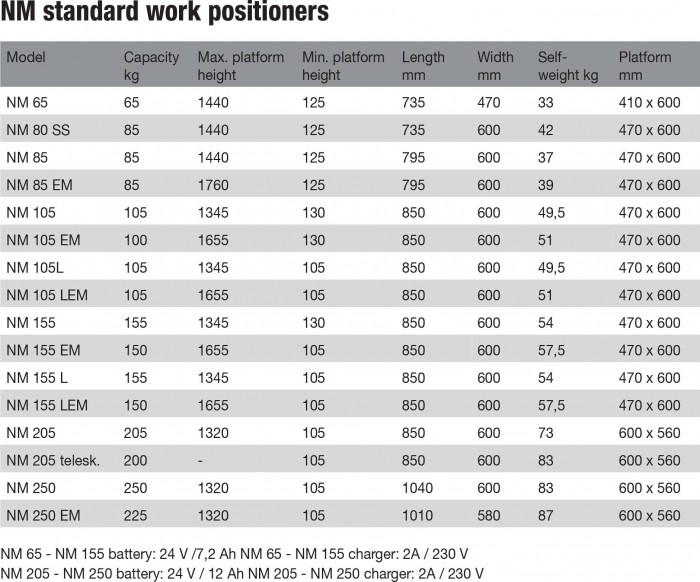 Custom made models, tools and accessories
With a wide selection of accessories and options for non standard applications NM work positioners
has great potential to become the perfect lifting solution for your tasks.
A selected range of NM Work positioner tools and accessories shown below. We can make tools to suit every
application.