Battery powered electric carrier on wheels for loads up to 500Kg*
The JT-300LP is a four wheels carrier. The tilting tiller, which acts on the steering wheel, offers great control and easy handling. It has an accelerator operated by the thumb, allowing the use of only one hand. This carrier is ideal for both indoor and outdoor work, in greenhouses and in nurseries. It can push or pull without effort. The 260-liter flatbed is perfect for the rail industry, in Primary care trust centers, in hotels, in greenhouses and nurseries, for gardening and in livestock paddocks.
Flatbed with removable sides
Equipment body on 4 wheels for better stability on rough surfaces
Tilting tiller with micro safety switch and automatic return to rest position
Precise handling thanks to the two steering wheels on swing axle
*The loading capacity is an indication that can change depending on the type of surface, on the slope degree and on the working time of the machine.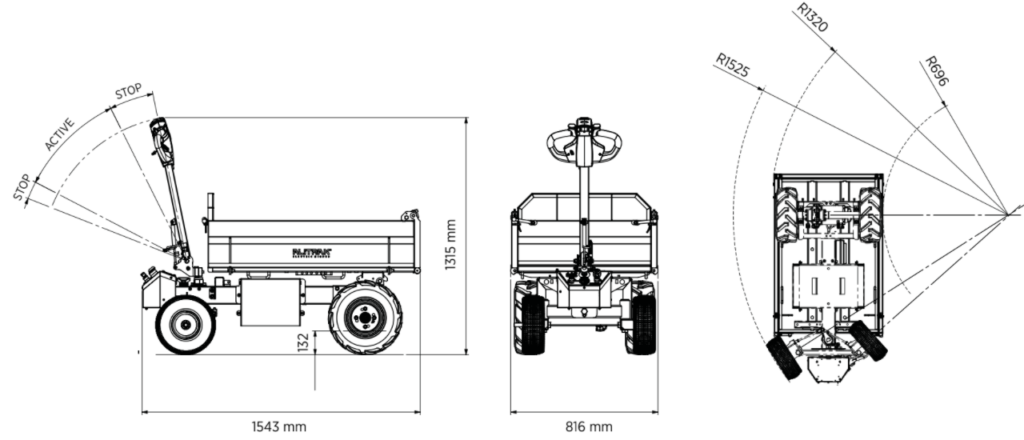 Equipment body
4 wheels
Driving wheels on differential
Garden type
Driving control type
Tiller
Accelerator
Butterfly type
Battery charger
External, 13A High Frequency
Dashboard display
Remaining battery charge
Equipment failures
Hour meter
Parking brake
Electromagnetic
AGM batteries
2 x 12V / 85 Ah C20
Electric Motor
24V / 1200 Watt S2 60min.
Product net weight
from 173 Kg abt
Contact Us for more Information on Electric Tow Vehicles
Download Brochure